BIOFACH Newsroom
Sustainable, creative, different: five exciting catering concepts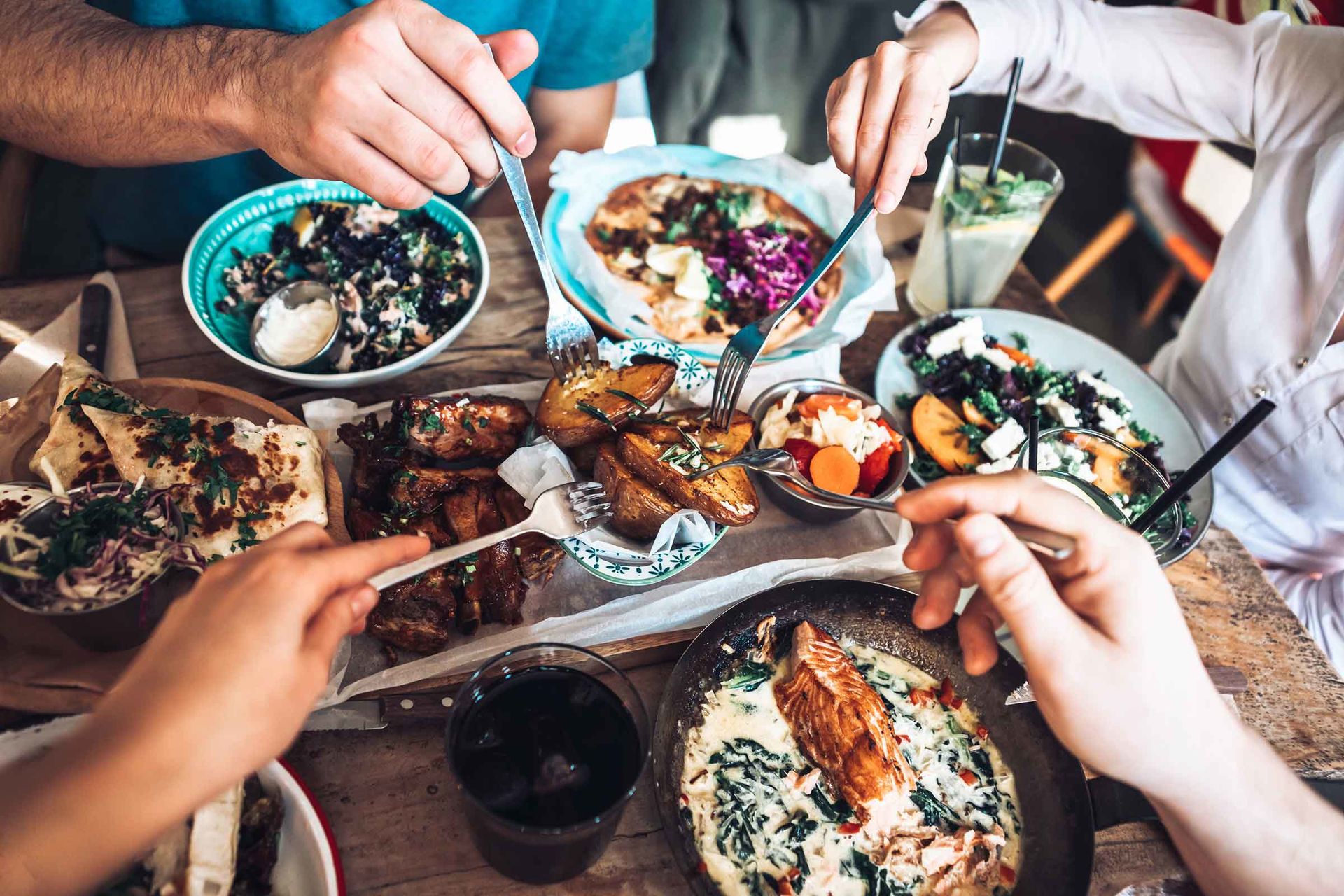 Sustainable, creative, different: five exciting catering concepts
Eating like a king is a thing of the past. A new theme is taking hold in Germany's restaurant industry, reflecting what's happening in society: you are what you eat.
Or rather, you eat what you are. More and more people are focusing on the questions of sustainability, environmental awareness and animal wellbeing. And much more importantly, they are adjusting their behaviour accordingly, including their eating habits. So it's no surprise that creative ideas are proving successful and increasingly enriching the catering scene. Here are five examples from various parts of Germany.
Germany's most sustainable restaurant:
Mom's Table in Augsburg
Mom's Table says its name came from the "richness and variety of Mother Earth's table", which also characterizes its philosophy, 100-percent based on organic vegan products. Founders Münir and Andrea Elisabeth Kusanc work with local farmers, use seasonal ingredients and utilize only filtered, vitalized water to prepare all their meals and beverages. Chemical colouring agents, preservatives and flavour enhancers are off the list, as is processed sugar. Packaging for takeaways is biodegradable and their electricity comes entirely from renewable sources.
"We want to play our part in improving public awareness, and help them re-establish the connection with themselves and their intuition," says Münir Kusanc, describing the idea behind the restaurant. "From our perspective, an essential foundation for attentive living is a sustainable lifestyle with healthy, pure nutrition." Besides very satisfied guests, this approach also brought the Augsburg business the title of "Germany's Most Sustainable Restaurant 2019", which was awarded for the first time this year as part of the "WeltverbEsserer" competition, whose German name combines the ideas of "eating" and "making the world a better place".
Climate change and agriculture – why we are both the problem and the solution: Read article
The mobile restaurant:
Kitchen Guerilla in Hamburg
Why have your own restaurant premises when there are plenty of attractive locations available and a mobile kitchen is a valid proposition? The answer – the Hamburg version, at least – comes from Koral and Onur Elci, and Kitchen Guerilla. With their mobile cooking unit, they temporarily take over third-party restaurants that are closed for holidays, or sailing ships, building sites, and other unusual locations from Hamburg to Istanbul. "It used to annoy us that eating in Germany was a solo activity," explained Onur, in one of the many interviews the two brothers have had to give on account of their offbeat ideas and ultramodern marketing methods. "Instead, we have a long table where you sit among people you don't know, and we often deliberately serve food in the middle for people to share."
In addition to the social component, they place strong emphasis on regional, mainly seasonal ingredients produced on organic principles. They work with a number of small traders and farmers, and have also leased a vegetable garden on the outskirts of the city where they grow their own produce. Their latest idea is to provide quality canteen food for businesses that are unable to afford a canteen of their own. One of their first customers is Facebook.
The hospital canteen with a bit of a difference:
The "Auszeit" organic bistro in Moers
Germany is home to close to 2,000 hospitals of various kinds. The St. Josef hopspital in Moers, North Rhine-Westphalia, however, is special. Instead of a sombre hospital cafeteria, hospital staff, visitors and patients can now look forward to the "Auszeit" organic bistro. It has proven successful, with 70 percent growth in revenue just six months after its renovation and a switch to organic products. Jessica Pfeiler, Service Manager for the operator, Rebional, told the specialist publication Health&Care Management, "Things are happening in this area, and everything is in transition. Guests are much more sophisticated, many doctors and nursing staff no longer have breakfast at home, and after lunchtime they expect more than just coffee, cakes or open sandwiches."
Interested in innovative products and services from the world of organic foods?
At BIOFACH, you've come to the right place!
Regional, seasonal – and spontaneous:
Hobenköök in Hamburg
Getting to Hobenköök takes you past "Hamburg's quirkiest spot", as a journalist once described the famous Oberhafenkantine restaurant. Unlike that almost century-old dining institution, the Hobenköök ("Harbour Kitchen" in the local dialect) opened in mid-2018 and its history still has to be written. Long-term success seems assured, however, considering its unusual mix of restaurant, market hall and catering. Especially since, in its own words, this is the first time that this combination of almost entirely regional and seasonal foodstuffs from up to 200 producers in the outlying areas of Hamburg has been made available.
"Here at Hobenköök we know all the producers individually, and so we know where the products come from, how they were made, and who was involved." That's the claim on the Hobenköök website, and it makes sense, since the chefs also draw entirely on the products in the market hall area for their creations. It also means that day-to-day business for the chefs is exciting and demands creativity, since in the morning they sometimes have no idea what they will be able to serve later in the day.
The zero-waste restaurant:
Frea in Berlin
The world has a huge problem with waste. So it's hardly surprising to learn that more and more restaurateurs are taking up the challenge and trying to keep the amount of waste they generate to a minimum. "Zero-waste" restaurants and cafés are taking this commitment to the limit in the positive sense, and seem to have caught the spirit of the age. One of the first was Frea, which opened in Berlin's Mitte district in early 2019. It deliberately avoids substitute products like tofu or soya in its meals, focusing entirely on regional fruit, vegetables and pulses instead. Its owner, David Suchy, brought the idea to Germany from the world's first zero-waste restaurant, Silo, in Brighton.
To ensure the food preparation and service processes really generate no waste, the regional suppliers must also play their part. For example, left-over food is turned into fertilizer within a single day using the company's own composting machine, and that is then returned to the supplying farmers. Oil and vinegar come in returnable bottles. Packaging uses only recyclable paper, and the serviettes are made of cloth.
Five good reasons why you should visit BIOFACH