BIOFACH Newsroom
Quo vadis organic sector? Changing values are making themselves felt in the areas of organic farming and natural and organic cosmetics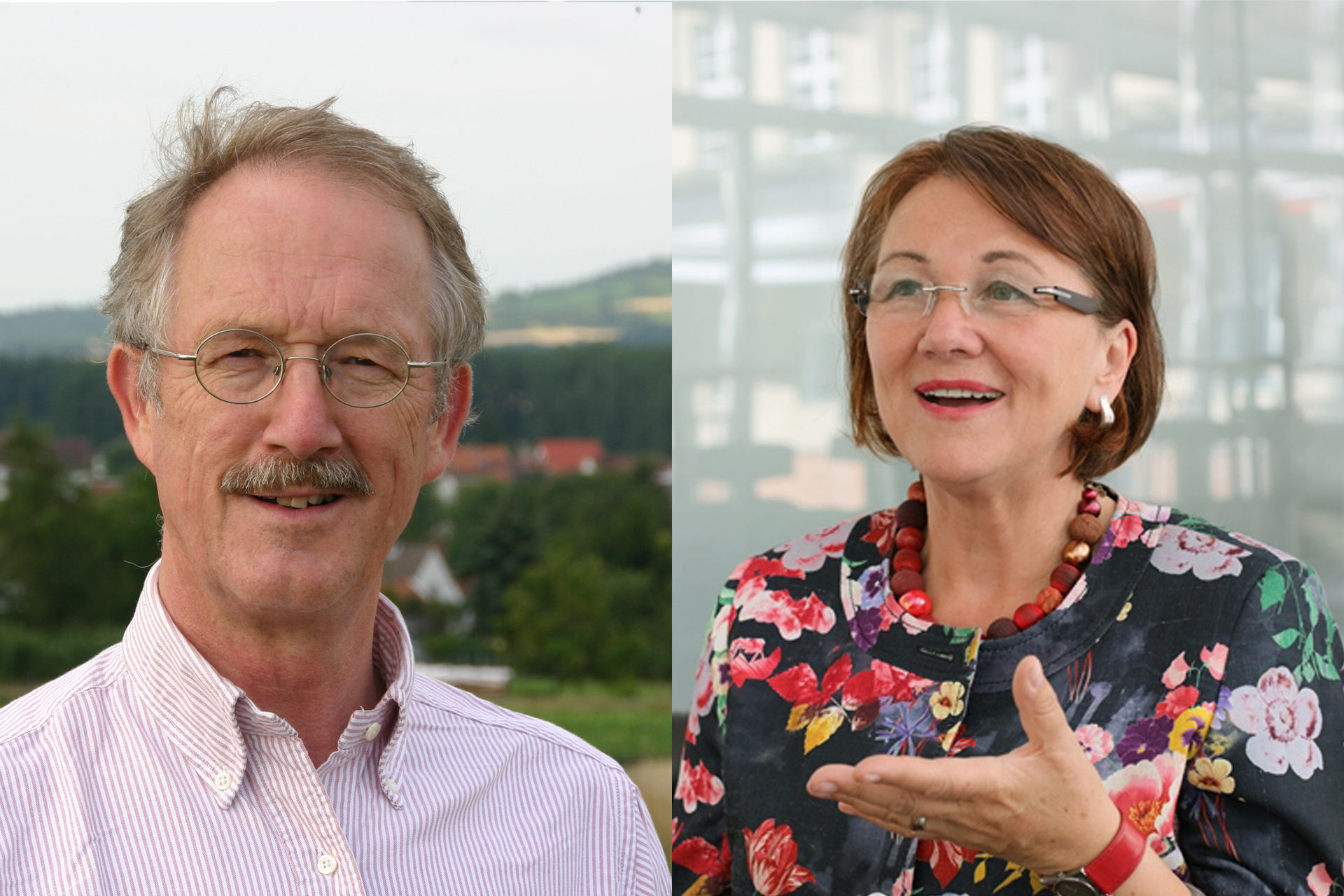 "We can't expect 100 percent organic to work with our current eating style."
Economic data for the organic food and natural cosmetics sectors is positive, with both of them clearly in the fast lane. Representatives of those sectors are no doubt eagerly awaiting BIOFACH and VIVANESS 2020 in Nuremberg this coming February. To find out about the most important developments, challenges, and trends, so we spoke to two top experts in the industry: Dr. Felix Prinz zu Löwenstein, chairman of the German Federation of Organic Food Producers (BÖLW), and Elfriede Dambacher, owner of naturkosmetik konzepte, a consulting firm.
Mr Löwenstein, German organic farmers earned 12 percent more in 2017 than in 2016. In 2018, five farms a day converted to organic methods. Is the organic food industry more than just extremely profitable these days, and will it soon also become the standard?
Löwenstein: Organic food is primarily profitable for the public at large because the organic food industry is contributing solutions to the climate crisis, the extinction of species, and the disappearance of farms. Studies around the world have repeatedly shown this. It is far from being the standard. But it is a trailblazer for turning agriculture and food into what we need them to be – and 100 percent so! – as soon as possible given the urgency of the problems.
How do things look in the natural cosmetics sector, Ms Dambacher? According to GfK, 1.8 million people have purchased natural cosmetics for the first time since early 2018. Sales of natural cosmetics on the German market rose 8 percent during the first half of 2019 alone.
Dambacher: We still have a long way to go before natural cosmetics account for the majority of the total cosmetics market. But it's a fact that the cosmetics market is generally getting greener. This means that the cosmetics industry, which primarily uses substances and materials made from petrochemicals, is increasingly moving in new directions. For that reason, people are already talking about the post-mineral era for cosmetics.
Why is that?
Dambacher: The reason is very simple: Society's values are changing. We are currently hearing a lot about climate change. And discussions about substances such as microplastics have led consumers around the world to pay attention to the products they use on their skin. At the same time, trust in the cosmetics industry has been shaken because there was previously very little transparency about questions such as: What are production conditions like? What substances does the product contain? And what are they doing to the environment and my skin? Natural cosmetics are of course particularly strong in those areas with regard to both transparency and the substances being used, which can generally be returned to the natural life cycle.
How do things look in your sector, Mr Löwenstein?
Löwenstein: Transforming the way we eat will require working together. The people in the industry and society at large are pushing politicians hard, as we clearly saw at the protests against industrial agriculture in Berlin last January or as we are now seeing in the Fridays for Future movement. Who would have believed ten years ago that pesticides and bees would be covered in the daily news? People have noticed that we can't go on this way and are demanding that things change  – not just on the street, but also with their ballot papers, in referendums, and when buying food. That is ramping up the pressure on politicians and on the industry.
Has the public's increased awareness of the need for climate action and the protection of natural areas due to personalities like Greta Thunberg or the Fridays for Future movement also had an impact on the cosmetics sector, Ms Dambacher?
Dambacher: The public is of course highly aware of those issues. But if you look at what's behind them, you will see that there certainly has been a change. Back in the 1980s, people were more concerned with moving away from environmentally harmful petroleum and chemicals, while these days ethical criteria and sustainability are in the forefront. Justice in the world, so that environmental and economic objectives can be achieved, is also important. Finally, the Fridays for Future generation has grown up with organic foods as a normal part of their lives. They expect nothing other than organic ingredients in their natural cosmetics. And they want transparency, they want to be able to trust a brand. That has actually changed.
Then is it primarily young people and young adults who are increasing the number of natural cosmetics consumers?
Dambacher: No, the growth in Germany – with 1.8 million first-time buyers – cuts across all age groups. Sustainability is an important part of the general transformation in values. Young people aren't the only ones who were horrified when the serious pollution of the world's oceans by microplastics became public. Young people tend to seek out different brands, their own brands. They don't want to buy the same brands as their parents. They're also digital natives, and their purchasing behaviour is completely different. They allow themselves to be affected by influencers on social media; they tend to adopt more information of that kind and then look for products that are individually suited to them.
Mr Löwenstein, you like to talk about having a grandchild-friendly agro-food industry. What do you mean by that?
Löwenstein: We must manage resources to ensure that our children and grandchildren will have clean water, healthy soil, a stable climate, and functional ecosystems. The way we till our fields here and today will affect the life chances of future generations. And it's already affecting the life chances of people in other places.
Where do you think the strongest leverage for this will be?
Löwenstein: The transformation will succeed when you change political background conditions. Look at the European Union's agricultural policy. It determines – with billions of euros each year – what kinds of agriculture will be profitable. That is an example of how politicians can prime the pumps for organics and support farmers who do more for the climate, species diversity, or animal welfare, because the organic market compensates them for the extra work they do.
How do you respond to proponents of conventional agriculture when they say the growing world population cannot be fed by exclusively organic farming?
Löwenstein: Our colleagues have been far from unanimous on that for some time now. Many people are changing their positions because they want to farm sustainably. If we keep going as we have been, no one will be able to eat their fill. And if you look at where people are going hungry, it is primarily small farmers in countries with weak economies. Environmental intensification helps locally to ensure that small farmers bring in more stable harvests that are also more diverse. As for us, we can't expect 100 percent organic to work with our current eating style. The most important thing is for us to move away from our high level of meat consumption and stop wasting so much food.
Speaking of doing things for oneself: an increasing number of young natural cosmetic start‑ups have their own ideas and are taking them to market. What are they doing differently or better than the established natural cosmetics producers, Ms Dambacher?
Dambacher: They are much more flexible. And they are precisely reaching their target groups with their ideals. The pioneers of natural cosmetics tend to be oriented to the conventional cosmetics brands and their marketing concepts. One reason for this is that in the early days of natural cosmetics people were very reliant on the development of certification systems. Those systems were intended to make the necessary distinction between natural and conventional cosmetics as well as Greenwashing, and the situation isn't much different today. That's why the creativity and the breath of fresh air offered by natural cosmetic start‑ups so important. Some brands offer completely new, creative, and highly attractive approaches, thereby precisely fulfilling the needs of their target group. The new brands are livening up the entire market.
Mr Löwenstein, sales growth in the organic foods market is strongly based on the expanded product ranges of the discounters and full-range food retailers. In contrast, growth was minimal for specialty organic food shops in 2018. What is your position on that trend?
Löwenstein: Customers are buying more organic products whenever they can. And since people in Germany aren't eating more food, every percentage increase in the sale of organics means some transformation. The good thing about an organic product is that if the label says organic, then its ingredients are organic, no matter where you buy the product. Of course people who buy from at organic specialist retailers enjoy other advantages, such as a wide variety of 100 percent organic products accompanied by excellent advice.
What areas will your umbrella organisation focus on over the next few years?
Löwenstein: Our primary task is to obtain a political framework that will allow organic farmers, producers, and sellers to operate profitably. A lot of work will be needed to flesh out the new German law on organics, which will enter into force in 2021. But of course we will also be concentrating on the EU Common Agricultural Policy, German laws on the use of fertilisers, climate action, labelling, and the restaurant and catering sector.
What will be the greatest challenges for the natural cosmetics sector over the next few years, Ms Dambacher?
Dambacher: The natural cosmetics sector needs to develop a form of communication that can compete with the enormous marketing budgets of the cosmetics giants. We must also do more to stay ahead by maintaining greater proximity to consumers and cooperating more in the sector. The situation at present is that many strong brands are working only for themselves. Unlike the natural foods sector, we do not have an association to govern our interests – either nationally or internationally. All we have is different coexisting certification concepts. That was obvious at this year's natural cosmetics sector congress, where experts from the packaging sector said that the natural cosmetics sector would be much stronger if it developed sectoral solutions in the area of sustainable packaging, for example.
Does this mean you are calling for the creation of a strong natural cosmetics association?
Dambacher: Yes, I think it is a great challenge for the natural cosmetics sector to do more to pool its work on cross-brand issues and its communication. Simply to give us a stronger voice. After all, the conventional cosmetics brands and companies have already taken up many aspects related to sustainability and ethical issues. That means we must communicate just as loudly about something that has long been self-evident to the natural cosmetics sector.
What will be the hottest topic at BIOFACH 2020, Mr Löwenstein?
Löwenstein: At the congress we placed the emphasis on organic food's service to society with the slogan "Organic delivers". That theme will also make itself felt at the trade fair. But for us the trade fair also offers a great opportunity to talk to politicians, the press, and multipliers about current political issues of concern to the industry.
And how will things look at VIVANESS 2020, Ms Dambacher?
Dambacher: Two very important aspects have crystallised over the past few years: ensuring reliable supplies of raw materials and the subject of packaging. The cosmetics industry is increasingly turning to the natural raw materials markets, and an interest in avoiding the use of plastic is not limited to the natural cosmetics sector. The lack of trained employees must also be taken seriously. Of course natural cosmetics – like natural food – has the advantage of being an ethical sector in which young people like to work. But they don't always find modern forms of agile management there, which is what they'd like to experience as they start their careers.
Will we see you at VIVANESS 2020, Ms Dambacher?
Dambacher: Of course. VIVANESS offers an ideal platform for anyone from anywhere in the world who is focused on natural cosmetics with and without seals. The high barriers to entry represent a preselection that greatly benefits visitors. For me, this is the time each year when I can concentrate on gathering information about what the industry is facing, what the current trends are, and where developments are headed.
Finally, Mr Löwenstein, do you have any personal tips for BIOFACH 2020?    
Löwenstein: It's really overwhelming as you move through the world's leading trade fair for organic food to meet so many people with extraordinary stories to tell  – from organic pioneers to start‑ups, from Germany to India. But there's never enough time to see and try everything while also talking about agriculture and food. The special display on water will certainly be fascinating as well.
Thank you for your interesting comments.